Gulf nation reportedly setting up base in Horn of Africa

Assistance would violate eight-year UN arms embargo on Eritrea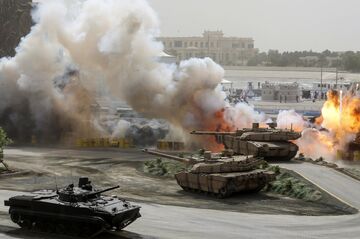 Eritrea's military received help from the United Arab Emirates and possibly Russian, Czech and Italian companies in the past year, assistance that would violate a United Nations arms embargo on the Horn of Africa country, the organization's investigators said.
Thirteen Eritrean air force and navy cadets received training at U.A.E. military colleges and seven at Emirati engineering institutions between 2012 and 2015, the investigators said in a Nov. 8 report to the UN Security Council, citing testimony from five cadets who defected. The U.A.E. has been building a military base in Eritrea, whose port facilities two months ago appeared to be "almost complete with multiple vessels docked," the investigators said, citing satellite imagery.
U.A.E. tanks and artillery have been present between the port facilities and an airport that is also being developed, the investigators said. A U.A.E. Foreign Ministry official didn't immediately respond to a request for comment. Eritrean Information Minister Yemane Gebremeskel didn't comment directly on the allegations.